Asset and Maintenance Management
The CRIBWARE Maintenance Module is designed for the management of maintenance activities. This module has Asset Management, Work Order and Task control and scheduling. With Asset Management, a user can identify an Asset, check its status, review service history and provide maintenance task documentation. The Work Order schedules and documents maintenance activities to be performed on your assets. A Work Order lists all the tasks needed to complete the activity, specific work instructions, asset documentation, part lists, tool lists and employee craft requirements. Work Orders are scheduled and tracked and are always viewable on the CRIBWARE screen or in report format. The Maintenance Module also manages the craft and employee skill records necessary to efficiently maintain an asset.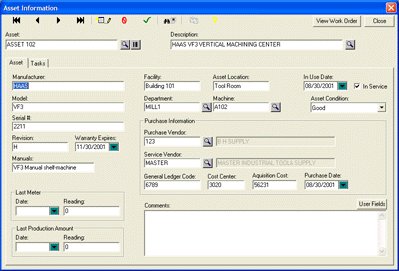 The Maintenance Management Module is available in multi-user, multi-location configurations and is compatible with the CRIBWARE issuing, receiving, material tracking and inventory control modules for the managing of maintenance materials. Point-of-use dispensing and vending cabinets provide secure material storage. CRIBWARE bar code devices are available for fast, accurate information entry and the ToolView module can be used for the referencing of print, documents and manuals.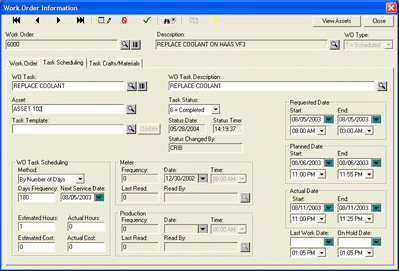 Features
Complete Asset definition and status tracking
Task templates for easy Work Order creation
Work Orders include time estimates, parts and tool lists
Planned and Emergency Work Orders
Work Order tracking by status
Work Order scheduling with material requirements
Online Work Order viewing and printing
Craft designations and employee assignments
Scheduling of maintenance activities
History files on Assets and Work Orders
CRIBWARE Check out/in for item usage and tracking to the Work Order and Assets
Management viewing of Work Order status
CRIBWARE inventory control, purchasing and receiving
Link maintenance schedules with tools and supplies needed
Integrated bar code printing and scanning
Numerous standard reports and a custom report generator
Security on all software functions
Online viewing of reference prints, Material Safety Data Sheets (MSDS) and other documents
Benefits
Enables better planning of maintenance activities.
Improves and simplifies asset management.
Increases production uptime by monitoring maintenance on assets.
Reduces need for unscheduled maintenance.
Documents emergency maintenance
Records accurate auditing of asset and maintenance history.
Tracks the usage of parts and tooling.
Documents history of maintenance activities.
Enables efficient use on maintenance craft resources.
Analysis of material used to perform maintenance.
Manages maintenance more efficiently.
Maintenance Reports
Maintenance Reports are designed to analyze and interpret important management information and provide user hard copy documentation. The reports are robust and graphically pleasing and present the information easily and quickly. CRIBWARE also supports the Crystal Reporting package, which offers the flexibility to create any custom report.